For drivers looking for a high-end, luxury driving experience, BMW and Mercedes-Benz are two of the most popular choices on the road today. Both brands offer a wide range of vehicles with appealing features and impressive performance statistics. When we compare them head-to-head, though, BMW comes out as the clear winner, offering a better overall experience than Mercedes-Benz.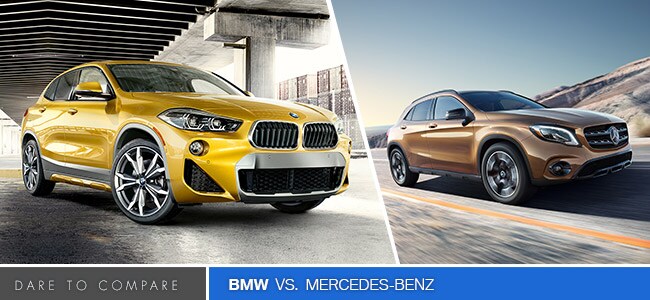 Performance
Mercedes-Benz offers a few sports cars that perform very well, but some of their lower-end models fall a little flat in the performance department. BMW, on the other hand, maintains a standard of excellent performance throughout their range of models. Whether it's the 3 Series sedan, X3 crossover, or high-performance M series, drivers can count on an exhilarating ride behind the wheel of virtually any BMW.
Luxury
Like we saw in the performance category, Mercedes-Benz offers some seriously luxurious vehicles while also offering others that fail to impress, such as the CLA. BMW, also like in the performance category, delivers a standard of luxury and sophistication across their entire model lineup, including the 2 Series Coupe, 5 Series Sedan, X1 subcompact SUV, or the incredible comfortable BMW X6 mid-size SUV. If you're looking for luxury while still being able to shop a brand's entire range of models, BMW is definitely the way to go.
Hybrid and Electric Options
While Mercedes-Benz does offer PHEV versions of three models, they simply don't compare to the BMW i3 city car or the i8 sports car. The i3 offers an astounding 114-mile all-electric range and a gasoline-powered range extender that increases that figure to 180 miles. The BMW i8 is one of the most impressive plug-in hybrid sports cars available. Offered in both coupe and convertible configurations, this striking performance vehicle is capable of 0-to-60 mph acceleration in just 4.2 seconds while maintaining some amazing fuel economy numbers.
So, for a lineup that offers consistent performance and luxury across all of its vehicles as well as superior hybrid and electric options, come and look over our selection at BMW of Fort Wayne.